A group of scientists from Singapore investigated the relationship between household chores as a form of physical activity and the preservation of cognitive functions in people of age. It turned out that mopping, dusting and cooking can be a real lifesaver for an elderly person. The results are publish
ed in the journal BMJ. Previously, a similar study also found a positive effect of household chores on mental clarity in older adults.
Moderate exercise is known to promote well-being and normalize blood pressure, and it can also help improve the quality of life of a person with dementia. For example, American scientists have found that older people with Alzheimer's disease perform better on cognitive tasks if they move more.
The new study involved two groups of volunteers: 249 people aged 21 to 64 and 240 people aged 65 to 90. They all live in Yishun, Singapore. Volunteers underwent a series of tests to assess cognitive function and risk of falls, such as getting up from a chair as quickly as possible, bending and straightening the knee. Participants also filled out questionnaires in which they answered questions about their daily physical activity and the amount of household work performed. Most of those who regularly took care of household chores were, as expected, women.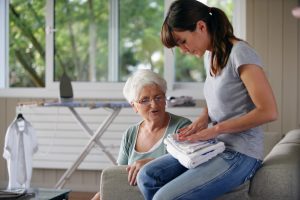 After adjusting the results for age, gender, and other factors, older people aged 65 to 90 had 14% higher cognitive performance scores when they averaged 131 minutes of housework per week. Among the participants in the group from 21 to 64 years, this figure was 8%. According to the authors of the study, the lower rates among younger participants are most likely due to the fact that their baseline data is higher than in the older group, and cognitive functions decline more slowly.
The scientists also found that cognition and memory properties were 5% higher in older people who did light and easy household chores that did not require serious physical activity. The highest rates were among volunteers, who spend an average of 902 minutes per week on such activities. Their physical abilities were also better compared to participants who spent less time on household chores and had a lower risk of falling.
"Housework https://en.wikipedia.org/wiki/Homemaking is a purposeful activity that many older people do. Regardless of other physical activity, such activities are associated with improved memory and the best protection against falls, "the scientists said.